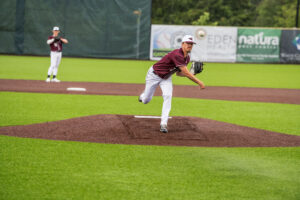 For the first time in three years, the Ridgefield Raptors take an international trip this week that begins Tuesday at 6:35 p.m. in Kelowna.
All road games in the 6-game Canadian road trip will be streamed live (audio only) at RidgefieldRaptors.com.
All three games in Kelowna are at 6:35 p.m., followed by a Friday-through-Sunday series at Nanaimo, a new team to the West Coast League. The Friday and Saturday games are at 6:35 and the Sunday finale is at 1:05.
With the 2020 cancellation of the WCL, this will be the first time since 2019 that Ridgefield has played a team from north of the border. In that 2019 season, just Kelowna and Victoria represented Canada in the WCL; both those teams returned to the league this year and are joined by three new Canadian teams in Nanaimo, Edmonton and Kamloops.
Ridgefield played one series against Kelowna in 2019, the second series of the Raptors' inaugural season. Ridgefield swept the Falcons on the road.
This will be the only series against the Falcons and NightOwls on the season. Ridgefield does host a Canadian team next week when the Edmonton Riverhawks arrive in Southwest Washington on June 14.
The Raptors offense has been hot to start the season, scoring 21 runs in the opener and 16 more in the first WCL game of the season. Those 37 runs set a record for the most runs the Raptors have scored in a two-game stretch in franchise history.