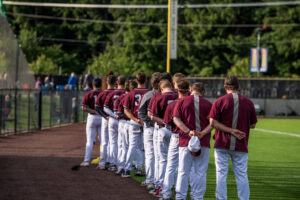 Written by Raptors broadcaster Josh Worden
The Ridgefield Raptors are on the road this week for a three-game series against the Portland Pickles, with all three games at 7:05 p.m.
Just 26 miles separate the Ridgefield Outdoor Recreation Complex and Walker Stadium at Lents Park, the home of the Portland Pickles.
It's the shortest distance between any opponent that Ridgefield could face in the West Coast League, and the Raptors will make that abbreviated drive three times this week for the first series of the year against Portland.
The Pickles and Raptors had a spirited rivalry last year, with both series coming down to a rubber match. The Raptors and Pickles were fighting for playoff positioning all year, with the final playoff spot coming down to the final week.
Ridgefield was ahead in the standings most of the summer but the Pickles took over second place in the South near the end of the year. Ridgefield forced a tie on the final day of the regular season and got into the playoffs via a tiebreaker.
Now, the rivalry restarts, as the Pickles and Raptors face off for the first time this summer and first of two series on the 2022 campaign.
All road games are streamed live on RidgefieldRaptors.com (audio only). The video stream is back for home games, including the home series this upcoming weekend against the Victoria HarbourCats. That series begins 6:35 p.m. on Friday.