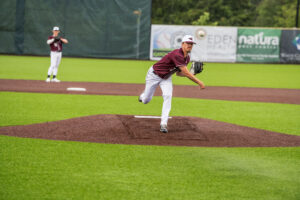 The Ridgefield Raptors continue the only Canadian road trip of the year by traveling to Nanaimo for a three-game series (Friday & Saturday 6:35 p.m., Sunday 1:05 p.m.).
All three games will be broadcasted live (audio only for road games) at RidgefieldRaptors.com.
This will be the first ever series between the NightOwls and Raptors. Nanaimo joined the WCL this year, becoming one of five teams in the league north of the international border.
Ridgefield showed its mettle earlier on the road trip in the first game against Kelowna. In the Raptors' first game in Canada since 2019, Ridgefield took a 4-0 lead in the 3rd inning. But still shaking off the rust after an 11-hour bus ride, the Raptors went quiet offensively and Kelowna came back to tie the game and send it to extras.
Travis Welker, making his Raptors debut, got aboard with two outs in the 12th inning and came around to score after a stolen base, error and wild pitch to give Ridgefield its first run in 9 innings. Jacob Kokeny pitched a scoreless bottom half of the 12th to preserve the 5-4 victory.
Now Ridgefield will make the 300-mile bus ride from Kelowna to Nanaimo on Friday morning and will play at 6:35 p.m. Friday evening in the first ever game against the NightOwls.
The next game in Ridgefield is Tuesday at 6:35 p.m., as the Raptors host Edmonton for the first time. Head to RidgefieldRaptors.com for ticket options as well as a video stream for all home games.