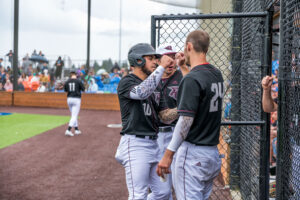 After a 6-game Canada trip, the Ridgefield Raptors are back in town for a 6-game home stand against the Edmonton Riverhawks.
Edmonton is a new team to the West Coast League, so this will be the first series ever between Ridgefield and Edmonton.
Tickets are available at RidgefieldRaptors.com as well as a live video stream. Each game, Tuesday through Thursday, is at 6:35 p.m.
The Raptors just played the Nanaimo NightOwls for the first time, outscoring Nanaimo 21-12 but losing in the rubber match Sunday on a walkoff.
Ridgefield went 3-2 on the trip to Canada, including wins in both games at Kelowna. The road trip was the only set of games in Canada this regular season for Ridgefield.
Now the Raptors can get comfortable at home since there won't be any overnight stays the rest of June. The only remaining road series this month is next week in Portland, and the remaining games are home series against Edmonton, Cowlitz and Victoria.
The Raptors are 5-3 on the season now and looking forward to playing in front of the home crowd at the RORC. See you at the ballpark on Tuesday at 6:35!