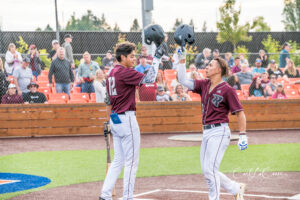 After an offensive outburst to begin the 2022 season against Cowlitz, the Ridgefield Raptors open West Coast League action Friday night at 6:35 p.m. at home against the Walla Walla Sweets.
In a non-league game Wednesday night, Ridgefield scored 21 runs on 22 hits, going scoreless in just one inning, and hitting three home runs.
The 21 runs are a new record for the Raptors, besting the previous record of 17 runs that was set in 2019. Ridgefield also tied a team record with 22 hits, broke a record with 20 RBIs, and Jacob Sharp's two home runs tied a team record.
The Raptors now face Walla Walla in the first WCL series of the year; Ridgefield finished the regular season last year against the Sweets. Ridgefield won two of three on the road, making the playoffs by a tiebreaker.
After the three-game series, Ridgefield heads to Canada for two series that begins Tuesday in Kelowna.
Tune in to all Ridgefield Raptors games at RidgefieldRaptors.com and find tickets at the same site as well!