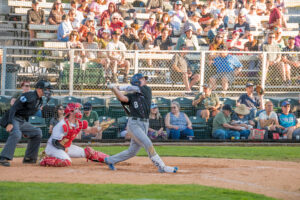 Written by Raptors broadcaster Josh Worden
The Ridgefield Raptors return home to the Ridgefield Outdoor Recreation Complex this weekend for a three-game series against the Victoria HarbourCats that begins Friday at 6:35 p.m.
These will be the first games against Victoria since July 2019. The HarbourCats did not play in 2020 or 2021 due to COVID, but are back in the league this year and are currently in the top half of the North Division standings.
Ridgefield finishes up a three-game series Thursday night in Portland and currently have a four-game win streak going. The Raptors have plenty of home games coming up, with this weekend kicking off another six-game homestand.
The Raptors played six home games last week, splitting the six games between Cowlitz and Edmonton. All home games will be streamed live on YouTube, with a link available at RidgefieldRaptors.com.
Be prepared to see plenty of offense at the RORC this weekend: the Raptors have taken the top spot in the league in batting average, on base percentage, slugging percentage and home runs.
It's not just hitting, though: Ridgefield opened the Portland Pickles series with a shutout, the third one in team history. The Raptors followed with an exciting 5-4 victory in extra innings on Wednesday night.
All six games in the upcoming homestand are at 6:35 p.m. except for Sunday, when the finale against Victoria is at 1:05. Following the weekend series with the HarbourCats, the Pickles come to town to complete the second series against Ridgefield. Tickets are available at RidgefieldRaptors.com.